Social, political and theological turmoil brought to life in last work by Sydney author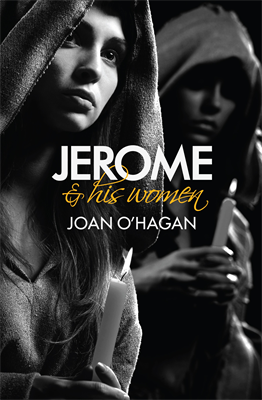 For immediate release
Social, political and theological turmoil
brought to life in last work by Sydney author
A work of historical fiction written by Sydney author Joan O'Hagan is winning glowing reviews for unearthing a little written about period of early Christian history set in Rome.
In an upcoming review in a literary journal, Mario Baghos of Sydney's St Andrew's Greek Orthodox Theological College has called the novel "meticulously researched and well informed", adding that it recreates a crucial period and the men and women who shaped it "in vivid detail".
O'Hagan's evocation of the character of Jerome (later St Jerome) is well captured by Baghos as being a "haughty ascetic whose intellectual prowess is matched only by his trenchant vitriol, against, well, just about anybody".
Baghos notes that O'Hagan has illustrated the "all-too-human deficiencies of an ambitious, tempestuous character whose literary accomplishments … became indispensable to the formation of Western Christianity" while "eliciting sympathy for Jerome from the reader".
While making her name as a mystery writer (eg Death and a Madonna, A Roman Death, Macmillan), in Jerome & His Women O'Hagan turns her attention to a more ambitious subject – Jerome, later known as St Jerome. Jerome's writings have rightly been the subject of many an academic treatise, but this is the first time the man Jerome has been brought to life, warts and all. O'Hagan's classical background stands her in good stead as she recreates the intrigue and controversy surrounding this famous but controversial figure, commissioned in 382 AD by the Pontiff to undertake the translation of the Bible into the Latin Vulgate.
Typically, there is a twist: the independently-minded women who assisted Jerome, and in particular the young and attractive widow Paula, played a vital role. This was the stuff of rumours in their day, and O'Hagan exploits this in her compelling portrayal of the relationship between Jerome and Paula, while being careful to allow readers to draw their own conclusions.
Conceived in Rome, written and researched in London, and completed in Sydney – Joan O'Hagan's final book has a chequered history spanning over a decade.
Age and ill-health did not deter the feisty 87-year old O'Hagan from putting the finishing touches on the book she regarded as by far her most significant. Completing the Preface from her bed in the Royal North Shore Hospital, she finished her manuscript shortly before her death in 2014.
Includes a Foreword by Richard Johnson, Emeritus Professor of Classics, Australian National University.
Contact for further information:
Denise O'Hagan (the author's daughter) – Phone: 0406 533 272
Published by Black Quill Press, contact: info@blackquillpress.com
Available from Book Depository, Booktopia, Amazon and leading bookstores
ISBN: 978-0-646-94370-1 (paperback, 288 pages), $AUS 29.95
ISBN: 978-0-646-94386-2 (e-book), $AUS 8.95
857073